Sustainable IT infrastructure
"With Dutch wind energy, modern datacenter technology, and own power generation our sustainability goals of 2030 will be achieved."
Serverius is fully focused to offer sustainable IT services. Our own IT services are using Dutch Wind, CO2 compensated diesel, low datacenter cooling PUE, and private sun panel fields. We take responsibility for our users and the next generation of humanity.
100% Dutch wind electricity
Serverius is using the "green" energy certificates for its own infrastructure and IT services. This energy is 100% generated by wind turbines in the Netherlands, produced according to the requirements of SMK (Stichting Milieukeur). This way you are assured of electricity that meets strict sustainability requirements. SMK guarantee guarantees that your electricity comes entirely from Dutch wind turbines.
This Dutch windmill is generated with the lowest possible CO2 emissions during the entire production chain, from the construction of the windmill to the transport to the electricity network. As a result, our clients and all their users score maximum on the CO2 performance ladder and you minimize the impact of your company on the environment.
Green energy is handled differently for each product. For example, Serverius itself uses CO2 neutral wind energy for its own infrastructure and all services such as Qbine, EuroStack, and SpeedIX. With the datacenter colocation services, it is up to the user to indicate whether they want to use green energy instead of gray energy for a little extra. Because it is not up to Serverius but up to the customer to decide whether or not he wants to pay a higher amount per kWh. When you want to buy green energy for your colocation service, you simply can contact your normal contact person.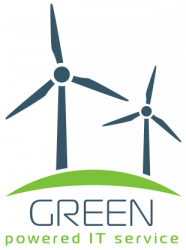 "The Serverius datacenters produce private solar panel energy"
Image: sun panels at the SDC1