DDoS protection / Hybrid protection
Hybrid DDoS protection
"Hybrid DDoS protection solution that gives enterprises and Internet Service Providers state-of-the-art DDoS protection using own hardware in combination with the cloud."
Recommendation:
Users who are using own on-premise detection or DDoS mitigation hardware and need extra cloud capacity to defend large DDoS attacks.

Users who need extra technology to defend against complex DDoS attacks.

User who do not want to do large investment for a few large attacks a year.
Your own on-premise DDoS mitigation appliance in your own network will be deployed as the first line of defense, attacks are automatically mitigated. Your own scrubbing hardware will be used to defend day-to-day attacks. But when your own infrastructure is out of capacity, it will automatically start using the Serverius DDoS Protection Cloud (DPC).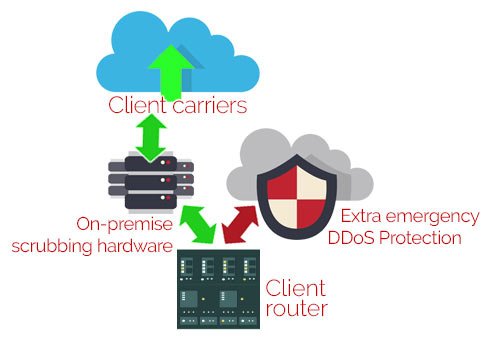 Any hardware will work
A hybrid mitigation setup will works with almost any brand of hardware, existing or new. But because of the high Serverius expert expertise with the Huawei Anti-DDoS Protection systems we always advise Huawei hardware to new users. The Serverius sales department can help with purchasing and the Financial Services desk can offer financial hardware leasing. When applying your hardware through Serverius, it will be installed and configured for free. Including free DPC and/or Huawei Atic training for your daily usage.


Support, 24×7 monitoring, personal training
The Serverius engineers can do full on-site installation and DDoS Cloud Protection configuration, or just parts of it. You decide what will fit's you best. After everything is up and running, all will be hand over to you or the Serverius NOC can maintain it. With the famous SLA packages you will experience the highest possible uptime.