BGP network DDoS protection. The self service web portal with integrated API functionality will offer users the best possible network infrastructure BGP DDoS protection.
Terabit-Level DDoS protection to protect an unlimited amount IP subnets. This high volume DDoS protection cloud service will cover any kind of DDoS attack for a fixed fee without any hidden cost afterwards.
DDoS protection packages
Every package will contain DDoS protection and the Web Application Firewall functionality. For example, it does not matter if you get 1 or 100 DDoS attacks a month, your package pricing will always be the same.
The main differences between all packages are the amount of inbound (clean) data traffic and the amount of Safe zones which can created. In all cases the total amount of DDoS attacks is unlimited.
* Ordering can be performed by emailing to sales@serverius.net or requesting a trail. After a few days a sales person will contact you to arrange the contract paperwork.
Try or buy
With the form below you can request a quote or a free trail for a few days. During this test period our engineers will assist with forwarding your data traffic by proxy or configuring BGP, GRE setup, creating your personalized security layer and answer all your specific questions.
Connect by GRE tunnel to protect your remote datacenter
Remote DDoS protection can be established by GRE tunnel. This way you can connect and protect your own data center network infrastructure. Incoming data-traffic will first passes through Serverius and will be inspected. Only cleaned data-traffic will be sent back to your network by GRE tunnel.
Redundant & multiple GRE connections
You can use multiple GRE tunnels. Normally a redundant setup will use two GRE tunnels to different Serverius routers. Both in different physical Serverius datacenter facilities. If you have redundant routers yourself you can connect all of them with redundant GRE tunnels. Even if you use multiple datacenters, all your routes can be connected using only one Cybersecurity package.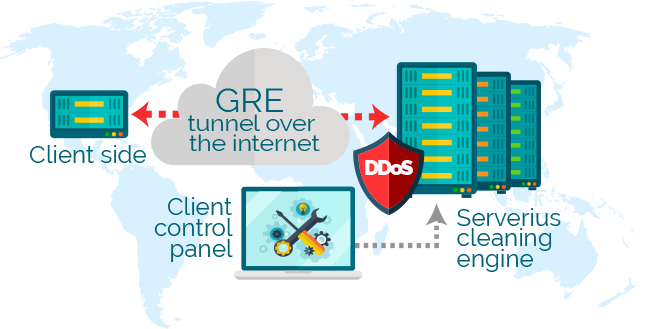 Note: BGP Layer 3 users can also use their GRE tunnel as a BGP IP transit uplink. Simply by announcing their IP subnets without enabling their IP subnets for DDoS protection. And in case of a DDoS attack, the IP protection can be simply enabled with a single mouse click or API call.