Internet Exchange connectivity
"Connect to the three largest Internet Exchanges in the Netherlands. It will boost your European network connectivity"
European Internet Exchange connectivity
At all Serverius data center colocation users can directly connect to the largest Internet Exchange connectivity in Europe. By direct PoP and multiple data center partners at SDC1, SDC2, and SDC3, all users can connect to Internet Exchanges like SpeedIX, NL-IX, AMS-IX, or use DCspine to connect to others. By the use of local fibers all users can simply combine carriers with all available Dutch Internet Exchanges.

All Serverius datacenters are core PoP locations of the free peering community SpeedIX. Therefore all data center users can get a free 10G peering port and use also a 1Gbps VLAN to other locations for free.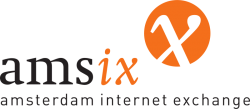 Ask Serverius or one of our local parties to connect to the AMS-IX:

The NL-IX is locally present in the Serverius data centers. Users can buy a from 100Mbps up to 100GE peering and IP-transit port or use the famous Layer 2 transport services to other European data centers.

DCspine offers a fully automated high capacity software defined network data center interconnection platform. You can connect to the services you need, when you need them. DCspine can be seen as the "Virtual Meet Me Room" for all connected data centers.
Dutch IP transit: SpeedIX + AMS-IX + NL-IX + PNI
At all Dutch data centers in the Netherlands (in and outside Serverius its own data centers), Serverius offers network users to receive all BGP routes from all known Internet Exchanges and large networks in Europe. It's known as "Dutch IP transit", a mix of SpeedIX, NL-IX, AMS-IX, and many direct fiber connections to large networks like Google, AWS, etc. Order all possible Dutch BGP internet routes on a single port today!
Pros & cons
Yes, premium data traffic, it's cheap, and it's perfect. But it also has its disadvantages: you can not use it together with Serverius its famous full route IP transit. And cannot be a member of official members of the SpeedIX. And if you have special peering needs, you need to ask the Serverius NOC to create this BGP peering for you.
But for those who want to have the most Dutch BGP routes on a single port for the best possible pricing, the "Dutch IP transit" service is by far the best option in the Netherlands. It will add the missing BGP routes when you only use carriers like Level, NTT, Retn, Cogent, etc. And of course, you will have the best possible network for the lowest possible pricing!
* Only without normal Serverius full table IP-transit.
* Only with a 1 up to 5 year contracts.
* Extra discount when ordering new colocation racks
* Available at all Dutch data centers.