Local Amsterdam Internet exchange connectivity
In both Serverius datacenter buildings are multiple certified AMS-IX Partners available to offer local AMS-IX ports. This way users can use official AMS-IX peering ports at the Serverius colocation datacenters.
Multiple port and vlan sizes are offered:
100MB, 250MB, 500MB, 1GE vlan by a 1GE port
2GE up to 10GE vlan on a 10GE port
10GE unmetered and 100GE unmetered ports

Multi carriers AMS-IX PoP ports!
The best thing of the partner ports at Serverius is that users use multiple ports from multiple AMS-IX PoP locations. All Partners are using  their own infrastructure and fibers and can offer ports from all official AMS-IX colocations. In this way you can use multiple AMS-IX ports from multiple AMS-IX datacenters to get the best possible latency and redundancy.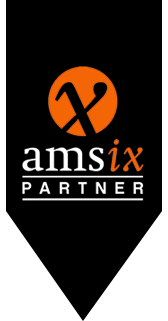 Order by one of the official AMS-IX Partners:

Serverius Connectivity
sales@serverius.net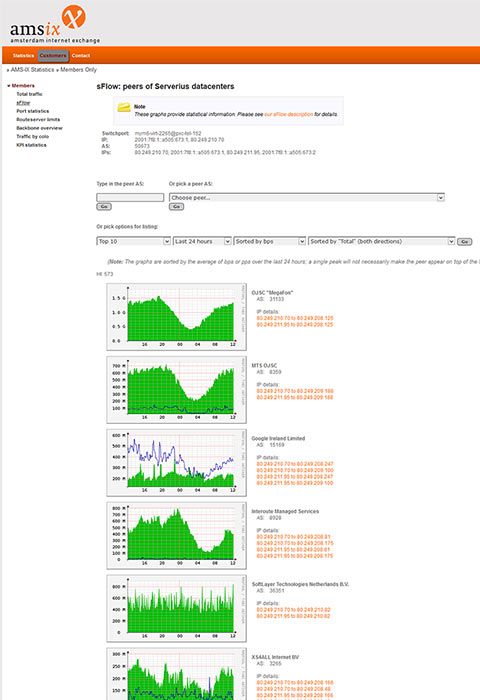 Full AMS-IX functionality
The customers of those partners will be customers of the AMS-IX company. You will have 100% functionality of the AMS-IX like any other member, including private AMS-IX web interface, statistics, all peering functionality and so on.
Benefits of AMS-IX Partner ports:
One-stop shop service: partner provides IP transport, AMS-IX peering port and customer relationship, including sales, contracts, billing and first line customer care support.
No recurring cross-connect cable cost at AMS-IX colocation PoP locations
No investment in equipment and no PoP in one of AMS-IX colocations needed.
No data transport costs from any of the AMS-IX PoP location to the Serverius datacenters
Lower port capacity available (starting from 100 Mbps)
Use ports of multiple AMS-IX locations on 1 place. You can choose of: TelecityGroup AMS2, TelecityGroup AMS5, TelecityGroup AMS4, Global Switch, Equinix AM1/2, Equinix, Interxion, Vancis B.V., Nikhef