Currently on SALE: All 1U/2U/3U/4U units combined with 10Gbps UNMETERED traffic:

NOW 2299,- /month !



All in one unit server colocation
Single rack units colocation is an all-in-one service including rack space, a free amount power, use of the famous Serverius network and 7 days a week professional on-site assistance. It is the best option when you need reliable, high quality colocation spot in Europe for you server. Serverius offers a free rack-and-stack installation service: Send your hardware with UPS/Fedex/DHL and we put it online for free!
Included by default:
The following are included by default when taking a single unit colocation.
1x 230v power port with 166kWh/230watts/1Amp N+1 power included.
Your hardware will be installed to a modern 19″ cold corridor.
Keyboard + monitor is on-site available.
Free KVM over IP to setup your hardware.
Free hardware installation service: Send your hardware to the datacenter and an engineer will add it the same day for free!
Not included:
The following items are not included when taking a single unit colocation. These items are needed in order to get your server up and running as soon as possible. If you do not have one of the following items, we can provide this to you for additional one time costs.
Railkit or shelf for your server (you need to send or bring this with you)
M6 screws, cage mounting nuts or any other material
UTP/Copper cable ~ 2 meter
Power cable (shuko or C13/C14)
Optional: 24/7/365 personal access card to the datarooms
Order your colocation and visit us today!
The Serverius engineers are 7 days present in the datacenter, so you can always drop by when it suits you.
Free included connectivity
1x 1Gbps internet uplink: burstable to 1000Mbps upload and download.
2x ipv4 + 10x Ipv6.
For your management port you get a

2nd uplink

. To this uplink your can connect your hardware management  like IPMI/iDrac/ILO.
Free dual datacenter setup! When your order 2 colocation packages (on in each datacenter) we offer a free 3rd uplink between DC1 and DC2. This way you can use 1 IP in both datacenter locations at the same time (or as a fail-over).
Free 1G unmetered bandwidth per client! FUP (Fair Use Policy). Serverius provide unmetered colocation bandwidth for an very low price. This is possible based on normal usage, and the assumption that you will not be using your port at full capacity 24×7. This way you do not have to worry about surcharges/over usages. The option is only for clients who are not using the service for any professional high bandwidth consuming services such as offering high volume video, CDN services or file sharing websites. If for some reason you do not match the client profile for which this option was intended, the Serverius sales department will contact you to discuss other options. They will will keep it reasonable and therefore they will not charge you for the bandwidth already used before we contacted you. Terms: No incoming data traffic is calculated, Allowed: Personal use, regular VPS or web hosting and similar services, Not allowed: (Live) Video Broadcasting, Video on Demand, File sharing, CDN services and other high bandwidth consuming public services (for this you need to upgrade to unmetered data traffic, see below of this page).
Free included DDoS protection
As an extra Serverius will offer you it's famous DDoS Protection Cloud to every single colocation user. You can use the DDoS Protection Cloud free package. This package has a limitation of one Safe Zone and a 5Gbps incoming (dirty) data traffic for 2 IP's. This will protect all your shared IPv4 subnets to all common DDoS attacks. If you need more Safe Zones or your attacks are larger than 5Gbps you can simply upgrade.
By default your IP's are not be added to the DDoS protection. If you want them to be protected you can add them yourselves to the protection via your personal customer portal.
Keep in mind you can also use the DDoS Protection like a firewall. You can block source IP's, block UDP traffic, block all traffic and enable only your home IP, filter host names by http and many more. Like you will see you can do allot with it.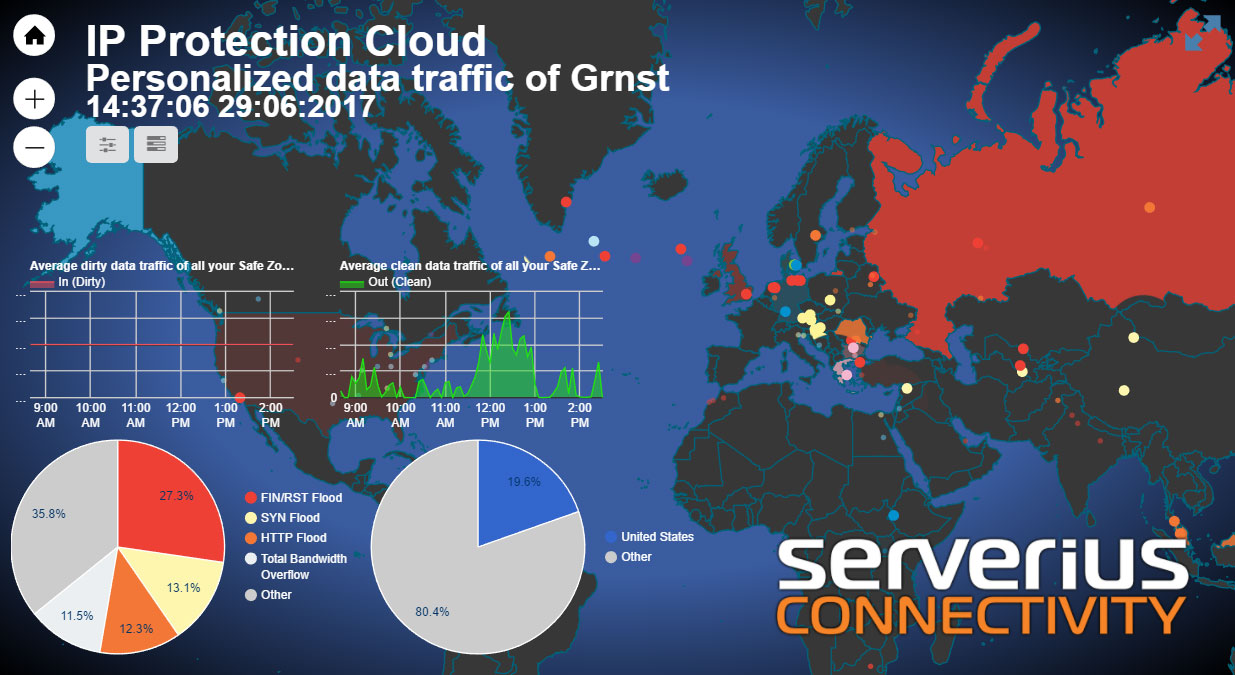 Use the best client panel from Europe!
You are in control! You have the ability to null-route your own ip's, view real-time data traffic statistics, change reverse DNS for your ipv4 and ipv6 subnets, add IP's to the DDoS protection and so on.
Extra rack-unit colocation items
Extra IP addresses: 1,80 per ip per month + 25,- EUR setup.
Upgrade to private 1GbE unmetered outgoing (FUP removal, all content like video and CDN is allowed): 250,-
Upgrade to private 10GbE unmetered outgoing (FUP removal, all content like video and CDN is allowed): 2300,-
Extra 1GbE port: 15,-
Upgrade to 1x 10G  port on edge switch (traffic not included): 99,-
Extra 1 Amp 166kWh/230watts/1Amp upgrade 30,-
Extra B-Feed on N+1 power: 15,-
Extra B-Feed on 2N power: 20,-
24/7 datacenter personal access card: 50,- one time fee.
24/7 Remote hands available, 24×7 personal access through personal access pass.
Notice
Multiple items give extra discount! Ask the sales department!
Minimal contract length: 12 months. Payment per month, per 3 month or year.
Bandwidth can NOT be added or aggregated with another server or order.
Upgrade to private colocation within the contract period is possible.
Moving your server from another datacenter to Serverius can give you extra discount to prevent overlapping payments.
Need more and cheaper ip's? Please ask for a private rack quote.
No vat/tax: all people and companies outside the European Union and all companies within the European Union (except Dutch company's) who provide there company name + vat number to Serverius do not pay vat/tax.