On-site data center support
Remote hands by teamwork, certified protocols and well trained engineers
Orchestrated teamwork with you
The customer panel allows users to easily request remote controls and also has a good archive of past requests. By the use of the graphical racking tool, no mistakes can be made and all requests are sent in a clear format to the on-site engineers. This will prevent noise in communication and all tasks will be performed the quickest way possible.
When urgent requests need to be performed, a user can create 24/7 escalation "OC" (On-Call) remote hands. This way all on-site Serverius engineers will get a direct internal notification to leave their current work and start with the OC remote hand. This way of working will offer the fasted way possible remote hands. In the past 3 years the average response time of it was less than 2 minutes! Like you see, a fast and professional way of working where you can rely on.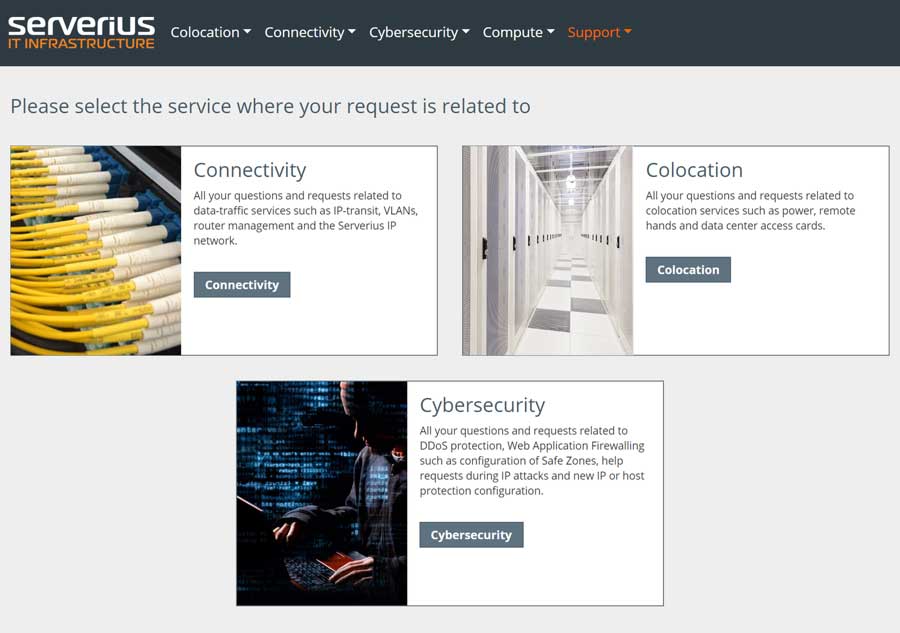 Receiving hardware at the datacenter and inform the client with photos.
Adding hardware to a colocation rack.
Providing a Serverius KVM over IP. This way you are able to configure the hardware remotely.
Add IP subnets to on board server KVM
Reporting hardware errors to client.
Swapping a hard disk, CPU, memory, main boards etc.
Power cycling, resetting or rebooting equipment.
Adding internal rack cabling.
Professional workflows:
Response

time is graphically displayed.

Per case or in general you can see the speed of (past) requests. Even clear statistics of the average speed from the past are shown in your client panel.
Clean rack hardware administration
Clients can use clear graphical rack administration tooling. By working with it, the client and Serverius engineers are using the same rack hardware positions. This will avoid noise in communication during critical situations.
Teamwork by client and Serverius
All members of the client team can have it's own client panel login to request remote hardware tasks. During and after these remote requests can also be viewed by his colleagues.

This way colleagues can easily take-over tasks and there is never any uncertainty about how things have happened in the past.

Archive of all past remote hands
All Remote hands of the past 5 years are saved. For an example, clients can easily see who requested a specific remote hand in the past and which Serverius engineer performed the task.
Without mistakes
Every remote hand requested by the tool is pointing to the exact piece of hardware. En engineer cannot make the mistake of applying remote hands to the wrong hardware position. In this way remote hands are applied 100% the way you want, you do not have to discuss to what hardware you pointing to and the task is applied the fasted way.
Sending hardware to the datacenter
All users can send their hardware to the Serverius data centers. When it arrives one of the support engineers will make photos of the goods and send these photos to its owner. This way the user will see what and when it was delivered to the datacenter. Until the user is telling by remote hands where to add the hardware in his rack, the packages will be stored in the secure datacenter storage.