On-site colocation support
"After 10 years of successful customer support, we have proven that helping others is the habit of every Serverius engineer."
In addition to every private or shared colocation service, Serverius is offering 24/7 on-site support to perform all kinds of hardware-related datacenter tasks. These "remote hands" requests are divided into two flavors: "OH" and "OC". Both will offer the best possible support for normal and urgent on-site support.
1. Normal (non-urgent) OH remote hands
Office Hours (OH) requests are known as the "normal" remote hands. They apply to all kinds of non-urgent, daily, datacenter tasks. Every request is processed in a day, 7 days a week, performed according to the "first in first out" principle.
A few examples:
Receiving hardware at the datacenter and inform the client with photos.
Adding hardware to a colocation rack.
Providing a Serverius KVM over IP. This way you are able to configure the hardware remotely.
Reporting hardware errors to the user.
Swapping a hard disk, CPU, memory, mainboards, etc.
Power cycling, resetting, or rebooting equipment.
Adding internal rack cabling.
2. Urgent 24/7 (emergency) OC remote hands
On-Call (OC) requests can be used during hardware failures to minimize prolonged downtimes. Each OC request automatically escalates its task to the on-site technicians on duty. They will drop all current tasks and act immediately by processing the support request. Whether it's day or night, customers can always count on support in no time.
In the past 3 years, the average OC response time was less than 2 minutes!
3. Hands-on requests
Serverius engineers can help customers with much more! Withing the knowledge of Serverius, all kid of special tasks outside the scope of normal OH/OC remote hands can be performed. These tasks are billed per hour, per case, or included are in a colocation contract.
A few examples:
Assembling hardware.
Picking up hardware from elsewhere (other datacenters, suppliers, mail delivery points).
Periodically custom-made operations for Client.
Each support request is processed under (free) default SLA. This guarantees its professional protocols, fast response, and clear communication to the colocation clients. Purchasing a higher SLA level can obtain higher priority over lower SLA users, discounted hands-on hour fees, and extra privileges.
Sending your hardware to the datacenter
Colocation users can send their hardware to the Serverius datacenters. When a shipment arrives, Serverius will email shipment photos to the client and ask him to create a remote hand. The user will login into his client panel, add it' hardware in his racking tool environment, and create an automated remote hand to inform where Serverius exactly to which rack position the hardware should be mounted.
Shipment can also be stored in the datacenter storage room. This secure room is very useful for storing spare parts.
Remote hands, eyes, and brains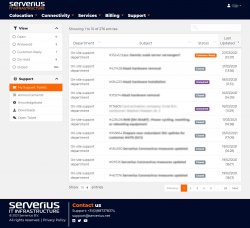 All on-site support requests are requested via Serverius its home build support software suite, which is available at the Serverius client panel. With a few clicks in the graphical racking tool, the related hardware can be selected, and the task itself can be described and send to the on-site datacenter support department.
After the request is sent to Serverius, a communication ticket will be created automatically and the Serverius engineers will receive all the information that is needed to perform the request. This way it will prevent noise in communication and mistakes. And most of all, the task itself will be performed in the quickest way possible.