"A distributed cloud storage platform, designed for excellent performance, reliability, and scalability."
Unlimited storage, always available.
Whether you need a second copy in the cloud, off-site ransomware recovery place, an active and accessible data archive, or long-term storage, Serverius its safe European storage platform EuroStack offers it all.
Object storage
EuroStack provides S3 compatible cloud storage that offers multiple features with it. Security, data availability, access controls and performance or just a few to mention. EuroStack serves their cloud storage to a variety of customers, different Industries and companies of all sizes
Block storage
Block storage provides network access to raw disk images, i.e. without anything over their top. Typical use case for Block storage is virtual machine disk image storage, while hypervisors only host running virtual machine instances but not their data.
File system
EuroStack file system provides a multi-use, highly available, and performant file store for a variety of applications, including traditional use-cases like shared home directories, and distributed workflow shared storage.
* MRC = Monthly Recurring Charge
* For special configurations and competitive pricing, please contact sales@serverius.net

No datatraffic fee's
The EuroStack product is data storage. We all know to store the data you need to upload and able to download the data. But that is not the product. With EuroStack you pay for the storage and not the traffic.

No API call fees
Eurostack keeps it simple, there are no hidden fee's whatsoever. Yes you need to use our API, but its free to use. All the object operations will not be charged.

Volume disc space for multiple users
With EuroStack you can use your storage volume with multiple users. This way you can share or resell your storage just the way you like.

1 region: 3 datacenters
Your data will be replicated over multiple Serverius datacenters, all stationed in the Netherlands. This way it's safe, fast, with the lowest possible latency.
Configurable by web interface & API
Users can create, change, and delete namespaces, users, and buckets by their client panel and API. This way it's easy to divide the total storage amount yourself.
Notification by Telegram, Discord, Slack, and Signal.
Email, SMS, Telegram, Slack, Discord, and Signal notification can be set to keep you updated 24/7. For example, when the user storage is almost full, you can set notices by email, critical notes by Signal or Telegram messenger during the daytime, and critical escalation SMS at night. Or in reverse, it's up to you.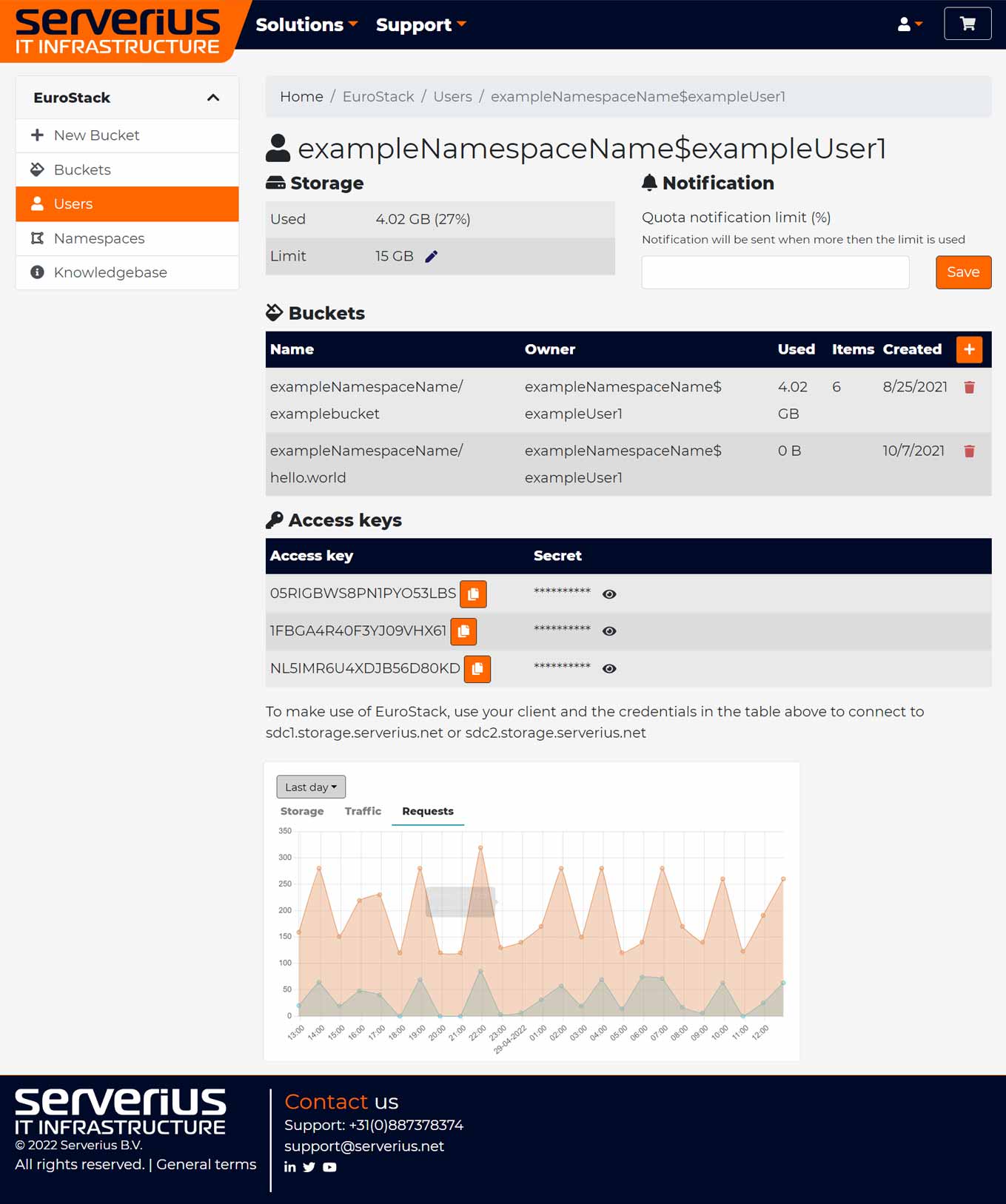 "Ceph storage ensures a high-quality service"
The storage layer of EuroStack is Ceph. It's the most reliable distributed object, block, and file interfaces storage cluster technology that is hosted at the three Serverius datacenters.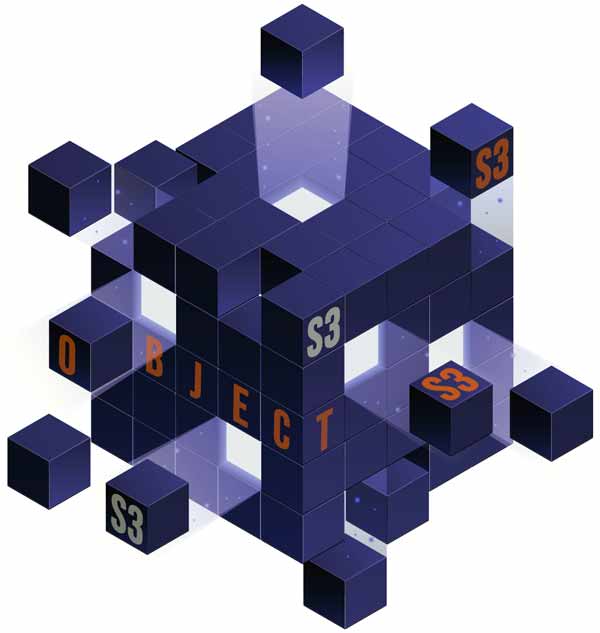 Using EuroStack against ransomware attacks
EuroStack S3 supports immutable storage functionality. This feature renders hacks pointless. And here is why:
Writing data is allowed, modifying, copying, or deleting is not possible.
Your data is saved in multiple Dutch data center locations in the Netherlands.
Access control by API, multiple user rights per Object are default.
To be able to authenticate by API, you can create user credentials with the limited right permissions. For example, A human admin user has full control over all storage containers, where he can delete and copy the files. A second user can only upload files and is used by automated backup software to secure all data. In case of a data breach in the local backup software environment, the hacker cannot read or delete any data.
EuroStack supports object locking. With this feature, you can make your object immutable for a certain period of time. For example for exactly 30 days. In those 30 days, your files cannot be changed, updated, copied, or deleted.
Another feature is the life cycle policy. With this policy, you can tell EuroStack to delete all the files older than a certain amount of time. For example, automatic deleting files which are older than 90 days.
European compliance storage
Under the GDPR and European ethics, you must maintain control and ownership of your own data and prevent others from accessing it. Only 100% of European companies that own and operate the entire infrastructure chain which is not under a foreign jurisdiction can provide this kind of guarantee. Any well-known hype scalers like Amazon, Google, or Microsoft and even some Dutch providers can't because they use non-European owned data centers in Amsterdam, that are known for their legal and data regulation of their home country in addition to the European GDPR.
Serverius' data storage service meets everything: the entire chain is owned and managed by Serverius, no other parties are involved. Therefore your data is legally safe. Read more »