1GE, 10GE, 40GE or 100GE

coreswitch

ports
Get your 100GE , 40GE (40 Gigabit Ethernet), 10GE (10 Gigabit Ethernet) and GE (Gigabit Ethernet) port and get connected by redundant core-switch ports (core router/switch A + B).
PoP's in the Netherlands
Direct delivery can be at both Serverius datacenter SDC1 and SDC2, Nikhef Amsterdam, GlobalSwitch Amsterdam, Telecity Amsterdam, TDCG Amsterdam, TCN Groningen, Vancis/SARA Amsterdam.
Aggregated port payment
When you buy/use multiple uplinks, your datatraffic usage on 95% percentile will be calculated as one!.
2Tbps backbone
Each peering or carrier is minimally connected by multiple 100G ports and is a part of the 1,2Tbps network what's running on our redundant 2Tbps transport backbone to multiple in-house, Amsterdam and Frankfurt datacenters.
BGP

Flowspec

support!
In addition you can buy BGP Flowspec rules. With these rules you can drop data traffic and allow it, but limit it at a specific defined rate. In this way you can control data traffic on the Serverius core routers before it will reach your own network. Flowspec is configurable by hand at the client panel, API and BGP community.
IP-transit in

Amsterdam


The core routing is processed in the Serverius private datacenters. Both datacenters are directly connected to Europe's main carriers and largest Internet Exchanges. Therefore its the best European connectivity!
Free transport between datacenters
The Serverius paid network users can use

free network transport

between both DC1 and DC2 datacenter.
Announcement of your own IP subnets
Don't you have a router? No problem, we can announce your own IP subnets under the Serverius ASN.
Redundant own backbone circuits
Only Serverius dark fiber are used for all uplinks to other peering/carriers, not on some other carrier's MPLS.
Premium routing quality
All routing is based on best/shortest BGP path. Just like how BGP should work. We only prefer some BGP routes above others when it's better for quality, changing BGP routes to save carrier cost will never happen.

DDoS & WAF

protection included!
You can use the Serverius DDoS Protection Cloud on top of the Serverius IP-transit. All users can use a free IP Protection Cloud Tin package!
Free incoming data traffic
All

incoming data traffic will not be counted

it's free.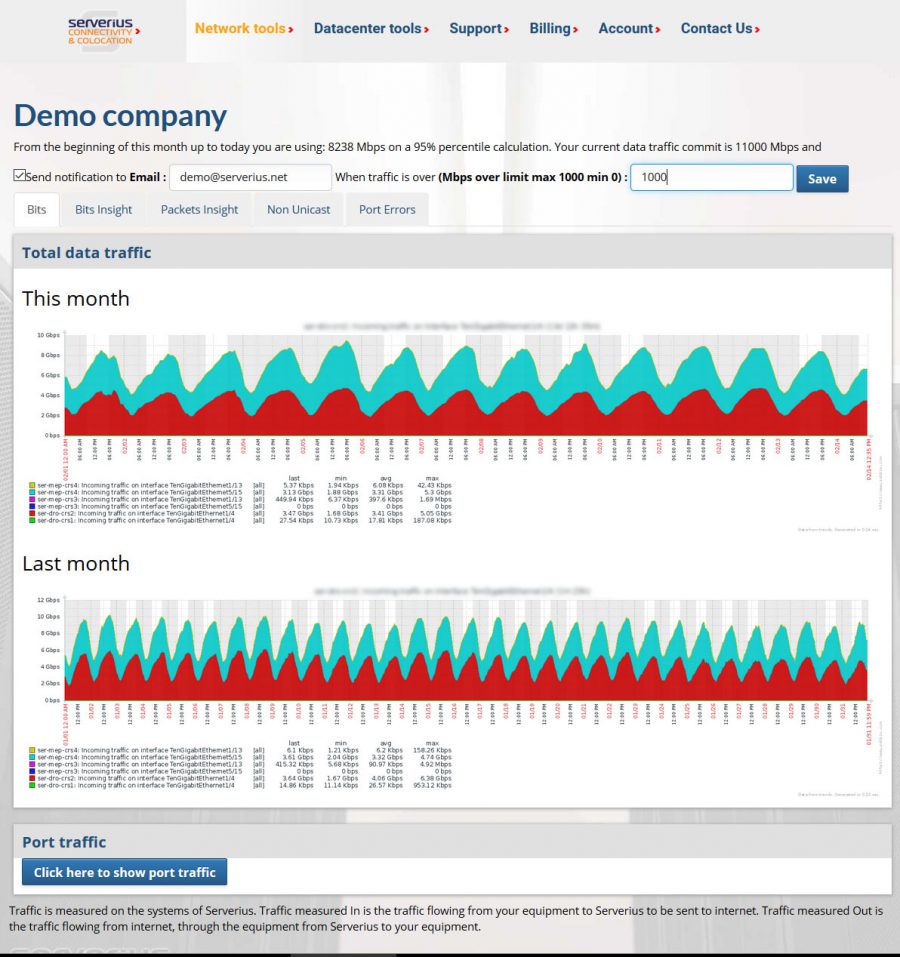 Advanced data traffic statistics
The client panel shows many real-time client port statistics. Not only the amount of Mbps, its much, much more!
Aggregated Layer 2, Layer 3 data-traffic in Mbps + the amount of packets per second.
Port errors. Long term history about the physical connection between you and the Serverius core-switch.
Deep insight of the most used protocols.
Incoming data traffic will not be added to the 95% percentile calculation. Therefore it's free of charge! (based on fair use).
This information helps you to better control your network. For example by optimizing your network speed or troubleshoot possible network problems. It can save you many hours debugging at your own hardware.
Aggregated Top Talker statistics
Incoming traffic is hard to manage. Outgoing data traffic you can control, but incoming you can't. Your own hardware will help you but with multiple uplinks it's hard to manage. You need real information about data traffic before it will hit your network. Therefore Serverius offers their users real-time Top Talker information + clear packet per second information with divided protocol information.  It's generated directly from the core routers, with an ultra fast sampling rate of 1 per 10 packets!
As you can see, the one-click-nulling or one-click-IP-protection assist to null-route or DDoS protect an ip with a single mouse click! This is very useful when one of your ip's is under heavy load or DDoS attack and you want to see and take action at the attacked IP address. With nulling an ip, all traffic to this ip will no longer hit your uplinks. The nulled ip address is nulled on the Serverius routers and all peering and transit suppliers.
IP management with automatic nulling & IP protection
All data traffic users (layer 2 and layer 3) can set Mbps or PPS thresholds per single IP or subnet. This will prevent full uplinks by incoming data traffic. For instance when your network is under DDoS attack the system can automatically null-route the attacked IP. Notification with information when and why an IP was nulled is sent by SMS, email and Toolbox. This way you can add for example your clients email address and/or mobile number for SMS notification.
Un-nulling can be done by the client panel and even by e-mail (click on a link). You can even un-null an IP in 1 click by a mobile phone! When 2 or more email addresses are added to the notification and one of them un-nulled an IP, the other one is notified by e-mail.
If you use the Serverius DDoS protection, you can add an ip to a protected Safe Zone with a single click!
IP security scanner

Knowing the adversary's moves helps you prepare your defenses. This security toolset do penetration testing to uncover the weaknesses in your IP infrastructure. It will help you to improve your security outcomes.
You can scan you own IP subnets for common software bugs, opens ports, ddos reflection helpers and many other thing needs to be resolved. Your weekly IP subnet scan schedules will inform you also about all urgent matters by email.
Abuse Control System
This tool will provide a clear overview of some abuse listing of the IP subnets you are using. In case of any abuse email what's send to abuse@serverius.net, the Serverius abuse system will automatically create a ticket and forward it to the responsible person, the Serverius client. The system will also monitor some of the largest spam SBL lists. In case of a some (pre) listing at a SBL it will provide information which can be used to take immediate action. This can prevent blacklisting of the IP.
100% pure route and short routes
As a neutral datacenter, it is our duty to offer our customers a neutral network service. Therefore the Serverius network only route, and will not filter datatraffic in any way. Our wide range of transit and peering suppliers are providing the fastest and shortest routes to other internet networks. You can test the quality of our network yourselves by our looking glass: http://lg.serverius.net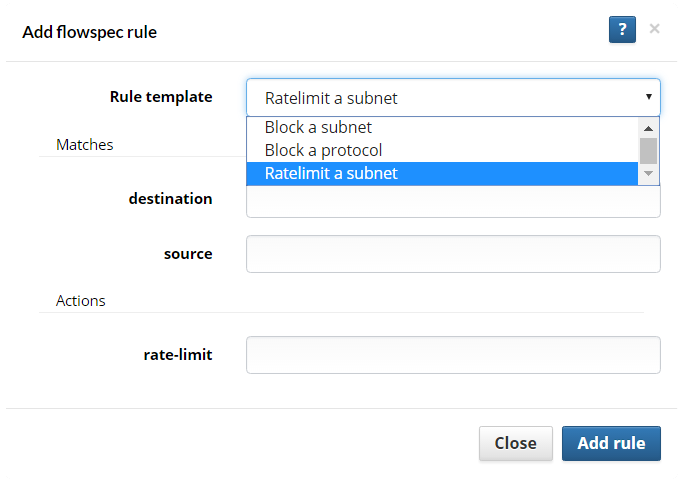 Adding BGP Flowspec rules by the client panel.
In addition to all IP connectivity services, Serverius offers BGP Flowspec to its users as an additional service. With this BGP Flowspec, users can add Flowspec rules to the Serverius core routers using the control panel and the API. Flowspec has a lot of benefits. For example: blocking high volume data traffic like a large firewall to use it as a part of your privately owned DDoS protection network.
Flowspec is an addition to the standard BGP protocol which allows BGP peers to exchange rules for filtering or redirecting traffic based on packet headers. The philosophy here is that there is no point in sending traffic when you already know it will be dropped by the recipient. By sharing Flowspec rules with BGP peers we can minimize wasted bandwidth.
Great thing about Flowspec is it will allow users to control their incoming traffic. Since Flowspec works on the router level, any traffic block or rate-limited by Flowspec will not impact traffic usage on transit ports. For instance when running a lot of websites, there is no need to receive UDP traffic. Instead of blocking it locally using a firewall, you can add a Flowspec rule that blocks UDP traffic. For example: if your network would be attacked by a DDoS reflection attack, the traffic will be stopped on routing level and not impact traffic usage in the rest of your private network. It will avoid full uplinks.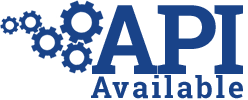 Because the Flowspec rules can be managed using the API, it is possible to link Flowspec to systems like flow collectors or traffic analyzers.